At first I wanted to call my review section "UGGHH You Actually BOUGHT That?" Cause hipsters are judgey and hate everything, obvz. But since I figured its really easy to find awful products out there and much more difficult to find good ones, I might as well use this opportunity to share stuff I actually like with you. That's funner anyhow, m i right?
HECK, LETS GET STARTED. I've already discussed my obsession with eating kid-food at the snack time. So it probably comes as no suprise to you that I'm a big fan of granola bars…well…kinda…
I do not love high fructose corn syrup or impossible to pronounce ingredients. I also do not love snacks that leave me famished 15 minutes after eating them.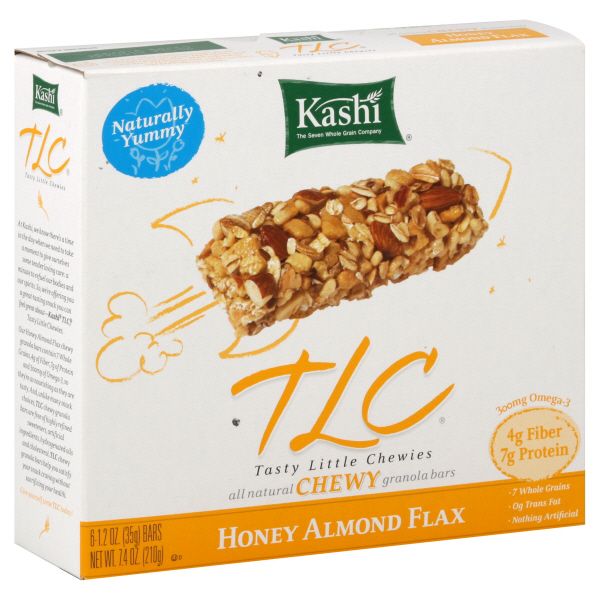 So which grocery store granola bar is your best bet? 
In my opinion the Kashi TLC  Almond Flax Granola Bar is head and shoulders above the competition. Kashi products use a mix of  whole grains including wheat, rye, brown rice, barley, oats and (my fave) buckwheat.  But more than that the nutritionals on these bars are IMPRESSIVE. They are low in sugar, contain heart-healthy fats and omega 3s, are full of fibre and contain a decent amount of protein. In practical terms this means they are a very energizing & satisfying snack! Which is what you want in your food…Ahem…Duh.
For me there is no comparison between this bar and the classic Quaker chewy bar. Quaker bars are actually lower in calories but much higher in sugar (all of it refined), they also only have 1 gram of protein and 1.5 grams of fat (coming from oils, saturated fats, etc.) as well as a zillion types of preservatives. Quaker bars essentially give you all the carbs (energy!) with none of the protein or fat (staying power!!!) In other words, they will leave you feeling wicked hungry.
MY TAKE:
When it comes to mid-day on-the-go snacks, staying power is key and that means a balance of carbohydrates, protein, healthy fat and fiber. So while I'd always prefer homemade unprocessed food over the grocery store aisle kind…Kashi TLC Almond Flax bars are definitely a snack in the right direction.
**Special Note: the healthy hipster is in no way associated with kashi, quaker or any other companies mentioned in this post. all of my reviews are purely based on my own tastes and opinions, to be read, deeply contemplated or ignored at your discretion.